Tokyo Tower
---
---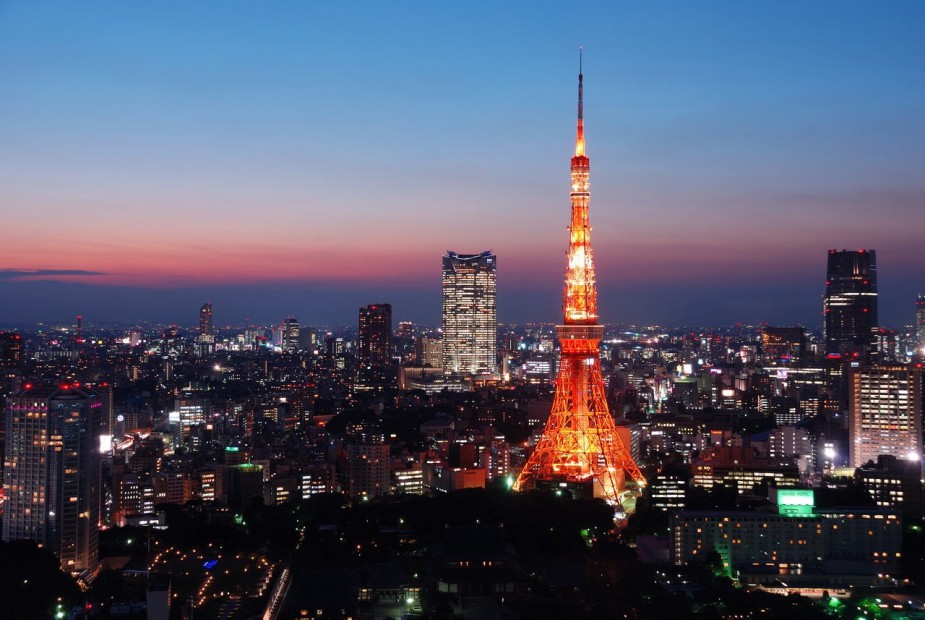 Tokyo Tower (東京タワー Tōkyō tawā) is a communications and observation tower located in the Shiba-koen district of Minato, Tokyo, Japan. At 333 metres (1,093 ft), it is the second-tallest structure in Japan. The structure is an Eiffel Tower-inspired lattice tower that is painted white and international orange to comply with air safety regulations. The tower acts as a support structure for an antenna. Originally intended for television broadcasting, radio antennas were installed in 1961, but the tower is now used to broadcast signals for Japanese media outlets such as NHK, TBS and Fuji TV.
Built in 1958, the tower's main sources of revenue are tourism and antenna leasing. Over 150 million people have visited the tower since its opening. FootTown, a four-story building located directly under the tower, houses museums, restaurants and shops. Departing from there, guests can visit two observation decks. The two-story Main Observatory is located at 150 metres (490 ft), while the smaller Special Observatory reaches a height of 250 metres (820 ft).
On clear days, Mount Fuji can be seen from a far distance. It is very recommended visiting the tower during sunset when the city transforms to its night life.
Admission Fee
Main Observatory
(150 m)
Special Observatory
(250 m)
Main Observatory +
Special Observatory
Adult
(senior high school
students or older)
900yen
700yen
1,600yen
Children
(junior high school students
and primary school pupils)
500yen
500yen
1,000yen
Children
(4 years old and over)
400yen
400yen
800yen
* Fees above added to
Main Observatory admission fee
Location
---
Comments (0)
Create comment
---