Asakusa
---
---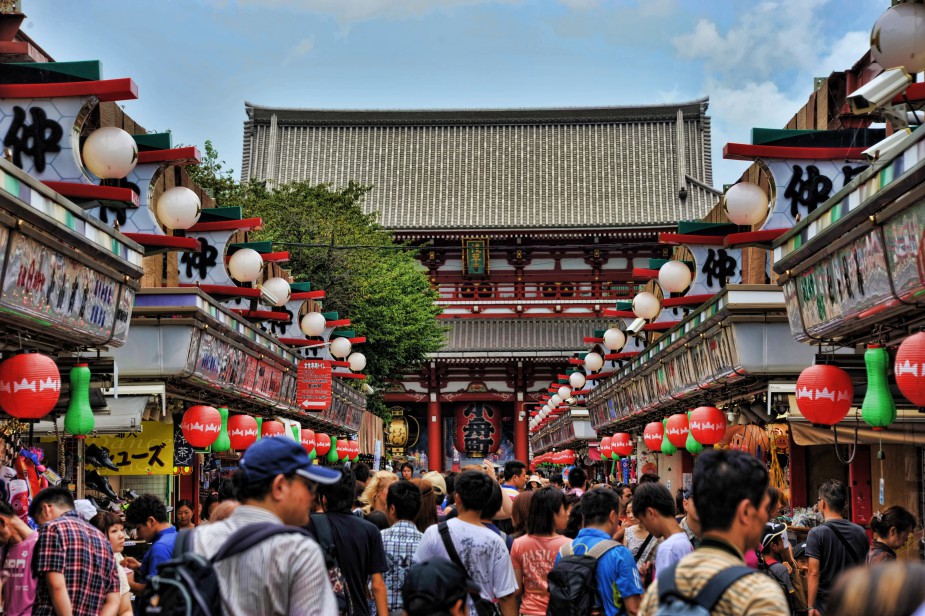 Asakusa (浅草) is a district in Tokyo, famous for the Sensō-ji, a Buddhist temple dedicated to the bodhisattva Kannon. There are several other temples in Asakusa, as well as various festivals.
For most of the twentieth century, Asakusa was the major entertainment district in Tokyo. The rokku or "Sixth District" was in particular famous as a theater district, featuring famous cinemas such as the Denkikan. The golden years of Asakusa are vividly portrayed in Yasunari Kawabata's novel The Scarlet Gang of Asakusa (1930; English translation, 2005). The area was heavily damaged by US bombing raids during World War II, particularly the March 1945 firebombing of Tokyo. The area was rebuilt after the war, but has now been surpassed by Shinjuku and other colorful areas in the city, in its role as a pleasure district.
Four statues are housed in the Kaminarimon. On the front of the gate, the statues of the Shinto gods Fūjin and Raijin are displayed. Fūjin, literally the god of wind, is located on the east side of the gate, while Raijin, literally the god of thunder, is located on the west side. Two additional statues stand on the reverse of the gate: the Buddhist god Tenryū on the east, and the goddess Kinryū on the west side.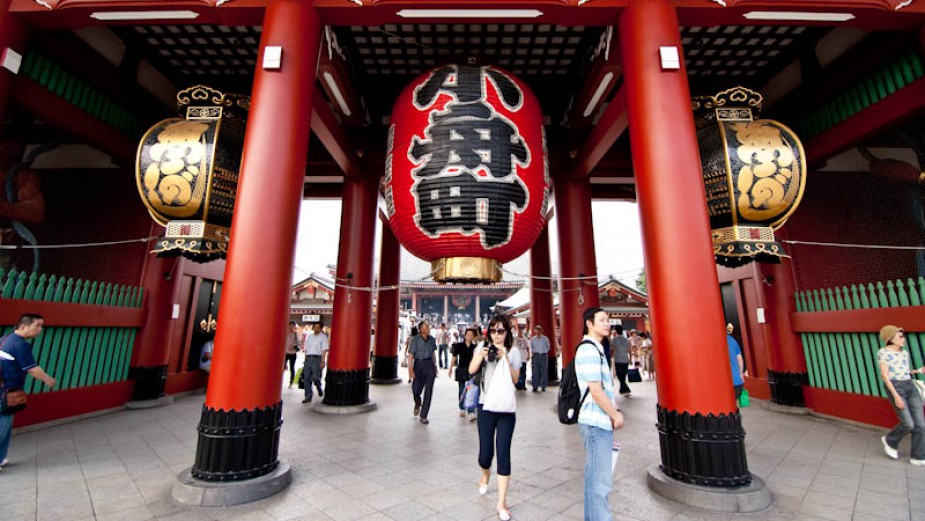 In the center of the Kaminarimon, under the gate, hangs a giant red chōchin that is 4 meters tall, 3.4 meters in circumference and weighs 670 kilograms (1,480 lb). Being very fragile, the lantern is not an original piece. It is instead a restoration that was donated in August 2003 in commemoration of the 400th anniversary of the start of the Edo period by Konosuke Matsushita, the founder of the Matsushita Electric Industrial Co. (now known as Panasonic).
The front of the lantern displays the gate's name, Kaminarimon (雷門). Painted on the back is the gate's official name, Fūraijinmon (風雷神門). A wooden carving depicting a dragon adorns the bottom of the lantern.
During festivals such as Sanja Matsuri, the lantern is collapsed to let tall objects pass through the gate.
The characters 金龍山 (Kinryū-zan) on the tablet above the lantern read from right to left and reference the Sensō-ji.
Don't miss the five-storey pagoda (五重塔 gojū-no-tō) and Dempō-in (伝法院) Temple's beautiful gardens in the same complex as Sensō-ji.
Location
---
Comments (1)
Create comment