Tokyo Sky Tree
---
---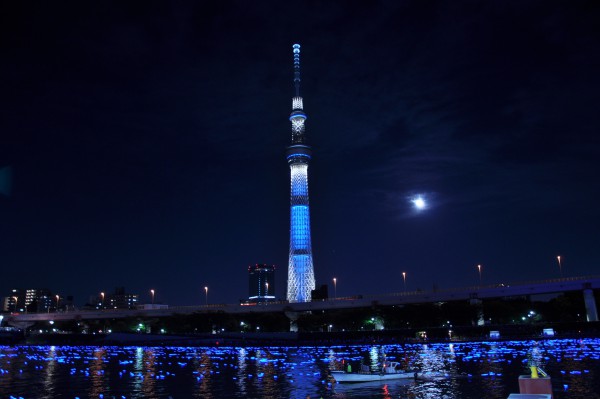 Tokyo Skytree (東京スカイツリー Tōkyō Sukaitsurī) is a broadcasting, restaurant, and observation tower in Sumida, Tokyo, Japan. It became the tallest structure in Japan in 2010 and reached its full height of 634.0 metres (2,080 ft) in March 2011, making it the tallest tower in the world, displacing the Canton Tower, and the second tallest structure in the world after Burj Khalifa (829.8 m/2,722 ft).
The tower is the primary television and radio broadcast site for the Kantō region; the older Tokyo Tower no longer gives complete digital terrestrial televisionbroadcasting coverage because it is surrounded by high-rise buildings. Skytree was completed on 29 February 2012, with the tower opening to the public on 22 May 2012. The tower is the centrepiece of a large commercial development funded by Tobu Railway and a group of six terrestrial broadcasters headed by NHK. Trains stop at the adjacent Tokyo Skytree Station and nearby Oshiage Station, and the complex is only 7 km (4.3 mi) north-east of Tokyo Station.
Colour
The exterior lattice is painted a colour officially called "Skytree White". This is an original colour based on a bluish white traditional Japanese colour called aijiro (藍白)
Illumination
The illumination design was published on 16 October 2009. Two illumination patterns Iki (chic, stylish) sky blue and Miyabi (elegance, refinement) purple will be used, alternating daily. The tower is illuminated using LED lights.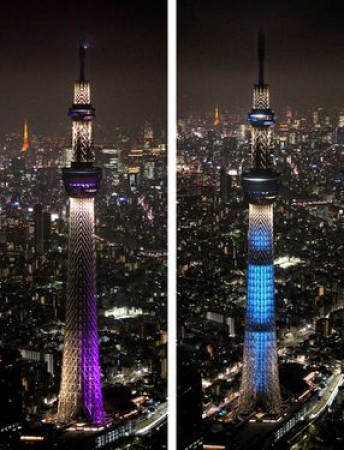 Location
---
Comments (0)
Create comment
---