Shibuya
---
---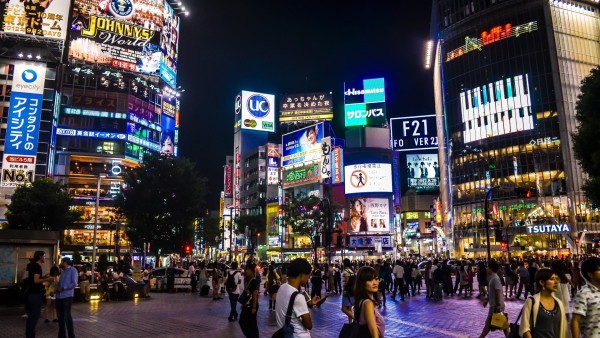 Shibuya (渋谷区 Shibuya-ku) is a special ward in Tokyo, Japan.
As of 2008, it has an estimated population of 208,371 and a population density of 13,540 people per km². The total area is 15.11 km².
The name "Shibuya" is also used to refer to the shopping district which surrounds Shibuya Station, one of Tokyo's busiest railway stations. This area is known as one of the fashion centers of Japan, particularly for young people, and as a major nightlife area.
Shibuya Crossing
Shibuya is famous for its scramble crossing. It is located in front of the Shibuya Station Hachikō exit and stops vehicles in all directions to allow pedestrians to inundate the entire intersection. The statue of Hachikō, a dog, between the station and the intersection, is a common meeting place and almost always crowded.
Three large TV screens mounted on nearby buildings overlook the crossing, as well as many advertising signs. The Starbucks store overlooking the crossing is also one of the busiest in the world. Its heavy traffic and inundation of advertising has led to it being compared to the Times Square intersection in New York City. Tokyo-based architecture professor Julian Worrall has said Shibuya Crossing is "a great example of what Tokyo does best when it's not trying."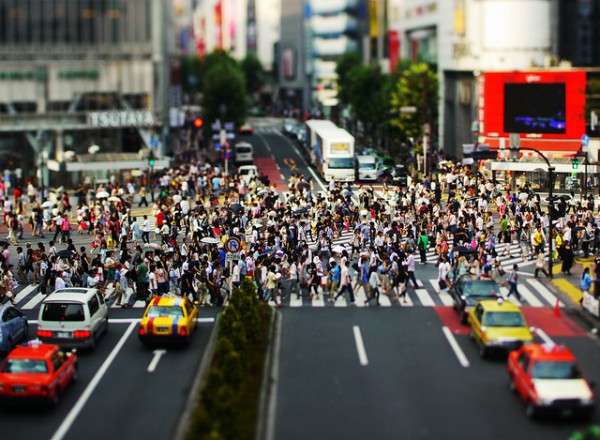 Shibuya Crossing is often featured in movies and television shows which take place in Tokyo, such as Lost in Translation, The Fast and the Furious: Tokyo Drift, and Resident Evil: Afterlife and Retribution, as well as on domestic and international news broadcasts. The iconic video screen featured in the above movies, in particular Lost in Translation with its 'walking dinosaur' scene, has been taken down and replaced with static advertising. It resumed operation on July 2013.
On the southwest side of Shibuya station there is another popular meeting place with a statue called "Moyai". The statue resembles a Moai statue, and it was given to Shibuya by the people of Niijima Island in 1980.
Location
---
Comments (0)
Create comment
---