Nagasaki Peace Park
---
---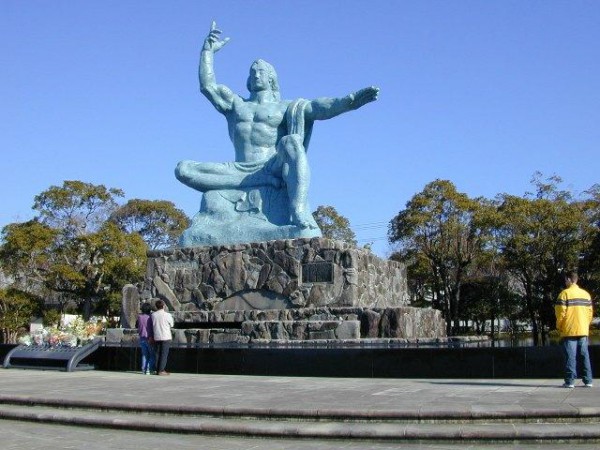 Nagasaki Peace Park is a park located in Nagasaki, Japan, commemorating the atomic bombing of the city on August 9, 1945 during World War II. It is next to the Atomic Bomb Museum and near the Peace Memorial Hall.
Established in 1955, and near to the hypocenter of the explosion, remnants of a concrete wall of Urakami Cathedral can still be seen. Urakami Cathedral was the grandest church in east Asia at the time. At the park's north end is the 10-meter-tall Peace Statue created by sculptor Seibo Kitamura of Nagasaki Prefecture. The statue's right hand points to the threat of nuclear weapons while the extended left hand symbolizes eternal peace. The mild face symbolizes divine grace and the gently closed eyes offer a prayer for the repose of the bomb victims' souls. The folded right leg and extended left leg signify both meditation and the initiative to stand up and rescue the people of the world. Installed in front of the statue is a black marble vault containing the names of the atomic bomb victims and survivors who died in subsequent years.
A plaque at the nearby hypocenter gives the following account and statistics of the damage caused that day.
At 11:02 A.M., August 9, 1945 an atomic bomb exploded 500 meters above this spot. The black stone monolith marks the hypocenter.
The fierce blast wind, heat rays reaching several thousand degrees and deadly radiation generated by the explosion crushed, burned, and killed everything in sight and reduced this entire area to a barren field of rubble.
About one-third of Nagasaki City was destroyed and 150,000 people killed or injured and it was said at the time that this area would be devoid of vegetation for 75 years. Now, the hypocenter remains as an international peace park and a symbol of the aspiration for world harmony.
Location
---
Comments (0)
Create comment
---