One Piece, Bleach, Other Mangaka Pay Tribute to Naruto
Sat 08/Nov/2014 3 20785
---
The Naruto we've known since 1999 is over and fans around the world are giving their thanks to the great Masashi Kishimoto! To have a story of this magnitude last for so long is definitely a praiseworthy accomplishment. These fans range from your everyday person to us at Saiyan Island to the peers of Kishimoto-sensei. In the 50th issue of Weekly Shonen Jump Magazine, mangaka, manga artists from other series pay tribute to Naruto and it's author. Many use the phrase Otsukaresama deshita, which is used to praise/appreciate somebody who has given it their full effort on something, to the point of exhaustion. For example, after the 4th Ninja War, English speakers would tell Naruto he did excellent job and that he should take a break for all his hard work. Japanese speakers would say Otsukaresama deshita!

Masashi Kisimoto | Naruto
In accepting the final story, there are mixed feelings, both happy and sorrowful. Nevertheless, I'm able to speak clearly, thank you to all the readers. To the end, I truly thank you. Otsukaresama dattebayo!!

Yusei Matsui | Assassination Classroom
It's been an honor to witness this great work to the end. Masashi Kishimoto, truly, Otsukaresama deshita.

Yuji Kimura | GARDEN
This issue of Weekly Shonen Jump should be commemorated and honored through the garnishment of flowers. I look forward to your impressions.

Kohei Horikoshi | MY HERO ACADEMIA
Naruto was my youth. Thank you for the greatest Shonen manga.

Yuto Tsukuda and Shun Saeki | Food Wars: Shokugeki no Soma
During middle school, the work that we came across by chance is finally…! Kishimoto-sensei, Otsukaresama deshita! We both really agree!

Kawada | Hinomaru-Zumou
Ever since I was a young student, I really enjoyed reading this story. I admired you. Kishimoto-sensei, Otsukaresama deshita!

Hideaki Sorachi | Gintama
As the shinobi passes by, as I expected, the wind feels refreshing. Kishimoto-Sensei, A resounding farewell, dattebayo

Shuichi Aso | The Disaster of PSI Kusuo Saiki
This week's final chapter, was a dreadfully amazing thing. (laughs) Kishimoto-Sensei, Otsukaresama deshita!

Haruichi Furudate | Haikyu!!
I was very honored to have collaborated at Jump Festa. I'm always aspiring to be as cool as Naruto.

Mitsutoshi | Shimabukuro Toriko
Uo! Kishimoto-san, for 15 years, truly Otsukaresama deshita! Naruto, thank you!

Naoshi Komi | Nisekoi
To witness such a great conclusion to a series, I feel happy! Truly, Otsukaresama deshita!

Daisuke Ashihara | WORLD TRIGGER
Closure to one of Jump's historic works, Kishimoto-Sensei, a long 15 year serialization, Otsukaresama deshita.

Shinsuke Kondo | JUDOS
15 years as a pillar of Jump. Respectfully, from the bottom of my heart, Kishimoto-sensei, Otsukaresama deshita!

Ippei Goto | Hi-Fi CLUSTER
Kishimoto-sensei, for all these years, Otsukaresama deshita. I and am honored to be involved in this memorialized issue.

Ryo Nakama | The Story of Isobe Isobee
To come after Naruto, as a young mangaka, Now, I'm fired up and dreaming of the future. I'll also do my best.

Osamu Akimoto | Kochikame
Kishimoto-san, for 15 years of long serialization, Otsukaresama deshita. I await the comeback of your new work.

Yuto Kubota | Sporting Salt
Kishimoto-Sensei, Otsukaresama desu. I have been reading since my childhood. I love Rock Lee!

Yusaku Shibata | Yoakemono
Kishimoto-sensei, Otsukaresama deshita. On your own, come back with a fresh start from training/learning. Thank you.

Tite Kubo | BLEACH
Kishimoto-san, Otsukaresama deshita! Although I believe it's been busy to finish up, for now, please rest well!

Eiichiro Oda | ONE PIECE
Both my friend and rival, thank you for 15 years of heartfelt serialization!! Kishimoto-san, Otsukaresama!!

Oda-sensei, in his 766th chapter of One Piece ("Smile"), included a secret message and hidden items on the title page. The first Japanese character or two on each of the menu signs in the background spell out, "Naruto otsukaresan deshita." Not only that, but the One Piece logo is drawn with a Hidden Leaf Village symbol, a shuriken, and Naruto himself. You will also note the Leaf symbol on Nami's dress, Luffy eating a bowl of Ichiraku Ramen along with a fox wearing a shirt with a fish cake on it (Naruto means fish cake in Japanese). This last one might be open to interpretation, but based on the view of the clothes and sandals, it seems as if Naruto is sitting across from Luffy!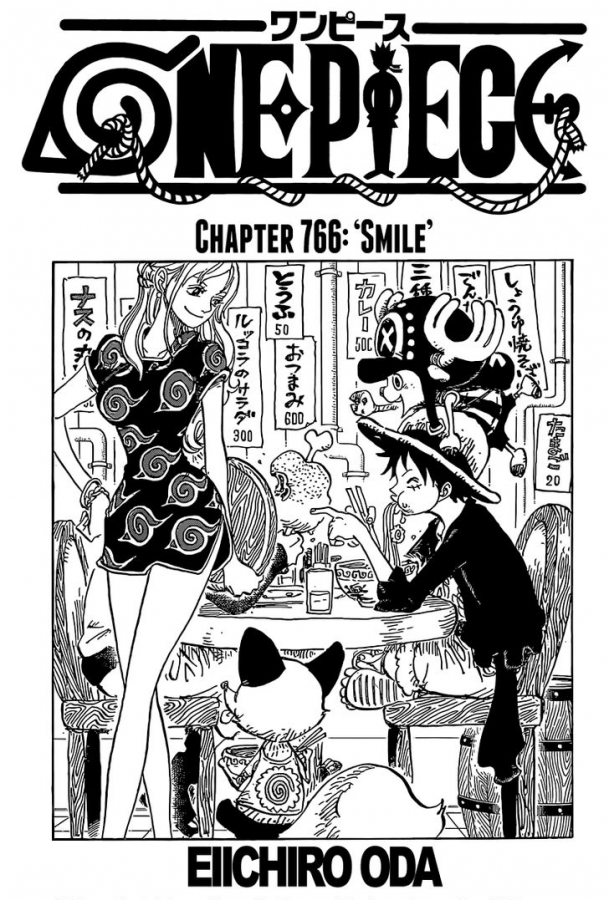 ---
Comments (3)
Create comment