Japan's Animation Industry Reached Record High in 2013
Thu 01/Jan/2015 0 5629
---
The Animation Market Analysis Project of Japan's Media Development Research Institute (MDRI) released report stating the market for domestic and foreign animation in Japan reached 242.8 billion yen (about US$2.03 billion) over the course of the year 2013. According to the institute, this is a record high for the industry, topping 2006's 241.5 billion yen (about US$2.02 billion at current exchange rate).
The market increased for the second year in a row, up by 4.2% from 2012.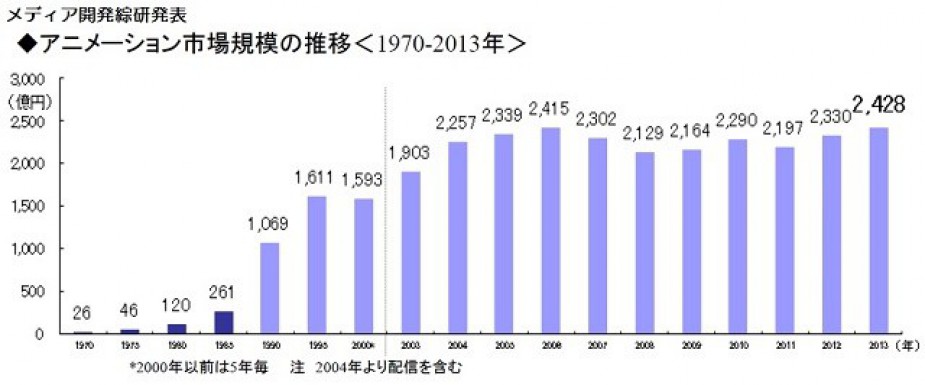 These figures cover both Japanese animated works and foreign animated works that were sold or distributed within Japan. The results include theatrical animation, home video sales and rental for animation, television animation, and online distribution.
According to the MDRI, the positive results can be attributed to the mainstay staple series, the film market where Western films also performed well, and a home video market that is finally recovering after seven years. Internet distribution expanded its influence over the course of the year, but has caused a decline in some areas, such as home video rental. The television anime market saw a slight decrease from last year, a trend that can be explained by an overall decrease in the satellite and cable television market.
---
Comments (0)
Create comment
// include right menu include "./rightbar.php"; // include footer include "./footer.php"; ?>